A bit of fragrance clings to the hand that gives flowers.
Just finished this !! paint still wet when I took the pics !
16x20 inch acrylic painting on stretched canvas .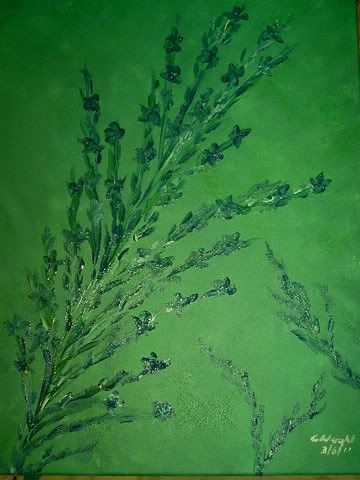 I wanted to paint something with teal -- came out with this beautiful painting and some teal in there because of the mix of blue, green and white .
Flowers are so pretty -- no matter what kind .
These are a product of my imagination -- so I couldn't tell you what kind of flower -- have fun naming them yourself !!
this painting will go with anything really -- blue and green are a soothing color -- to me anyway.
I sponge rolled the mix for a background color and then had fun with a brush for the floral .
It will make a lovely addition to anyone's decor -- use in living area, bedroom or just about any room you want to add this lovely floral painting to.
********************************
some of the colors -- blue , green , white
**********************************
** This is a one of a kind OOAK original 16x20 inch painting on stretched canvas .
** signed on front and back
**I will include a certificate of authenticity .
**********************************