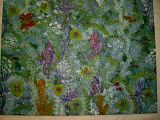 OOAK

one of a kind painting

" Colorful Ocean "
by

C. Wright

9-27-09

18 x 24 inch acrylic painting canvas panel

**This painting is larger than it looks in the pictures -- I just finished this -- paint still wet !!

*****************

I enjoyed painting this one, too !

This is a many color ocean scene -- interesting !!

Different size fish and seahorses all doing what they do best -- swimming through the ocean .

The fish and plants are so colorful it makes their world a beautiful place to live !!